Bridging in Action

Tuesday 28th March 2023
Weaving broadcast & digital for non-disruptive success
Weaving Broadcast & Digital for non-disruptive success
Bridging broadcast and digital is back in Prague 2023, in 'Action Mode' with a focus on how to harness bridging to develop new audiences and new opportunities. Many organisations are facing huge amounts of change, which challenges team managers & leaders, creators and technologists alike. But how to implement it in an inclusive and friendly way? How to organise? How is technology enabling this? How can we thrive as professionals? Bridging from the strategy perspectives of executives and those crossing the chasm. Held in a Round Room it is a fast paced, forward thinking, interactive round-table which gives practical tips to bridge to new audiences and create new opportunities, not shying away from addressing potential clashes.
Session Producers & Bridging Team: Albert Menacher, Vincent Beneviste, Camille Bondeville, Peter Niegel & Rosemary Smith
Want to know more about the speakers?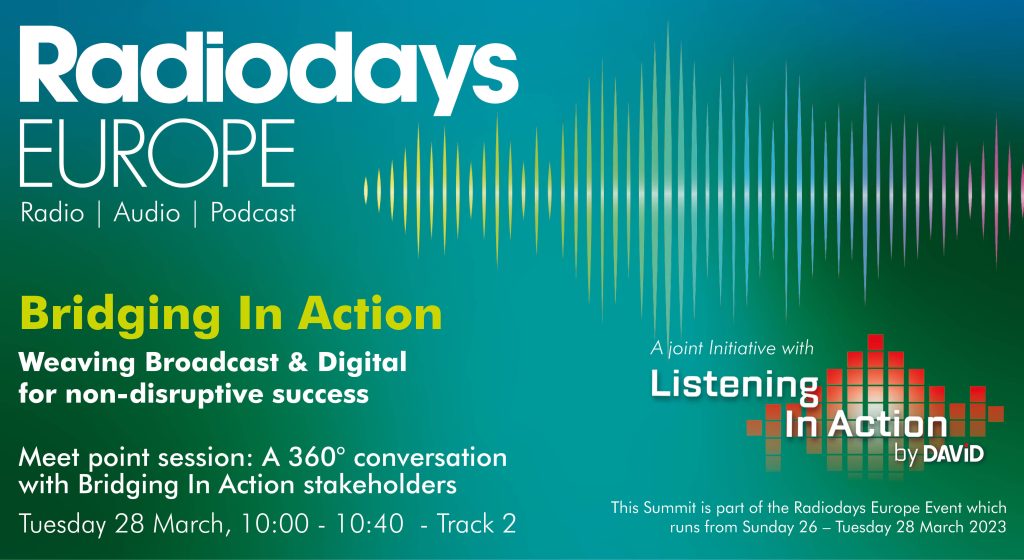 Bridging in Action
Date: Tuesday 28th March 2023
Venue: Track 2, Prague Congress Centre 
Starts:  10.00 – 10.40 am 
Meet point session: A 360° conversation with Bridging In Action stakeholders